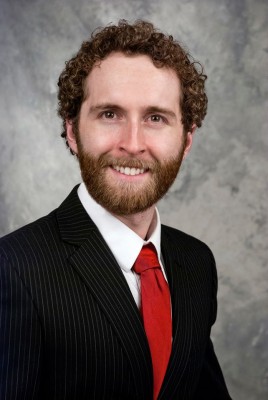 The American Medical Association Foundation has presented one of its 2015 Excellence in Medicine Leadership Awards to Harrison Hayward, a second-year student at the UConn School of Medicine.
Hayward is one of 10 medical students in the United States to receive the honor, which recognizes "strong, nonclinical leadership skills in advocacy, community service, public health and/or education."
"I am endlessly grateful to the AMA for extending me this award, and to my family, friends, and medical school for all the support they've given me along the way," Hayward says. "It's an enormous honor to receive this recognition. I look forward to learning what I can from it and developing the right connections in order to be an even better physician in the future."
The AMA Foundation recognized Hayward for founding a recreational support group for persons with disabilities and their families in the greater Hartford community, and for establishing himself as local Special Olympics program leader.
The award also acknowledges Hayward's work abroad last summer. He was part of the Himalayan Health Exchange, a group that provided medical care to villagers in remote southern Himalayan settlements.
"We dealt with all sorts of things: infectious diseases, dermatological conditions, dental work, orthopedics, etc.," he says.  "The expedition really solidified my passion for global health initiatives and has been a potent motivator for my work ever since."
Hayward also is a board member of the  UConn School of Medicine Outreach Clinic at the South Park Inn, which provides free primary care medical services to the transient residents of the South Park Inn Shelter in Hartford.
Hayward is pursuing a career in surgery, and aspires to couple that with his interests in global health and care for the mentally disabled to be come a physician, educator, and leader in global health policy.
This year's recipients of the AMA Foundation Excellence in Medical Leadership Award also included two residents, two early-career physicians, and one fellow.